Meet our Finance Manager
Don McCurdy!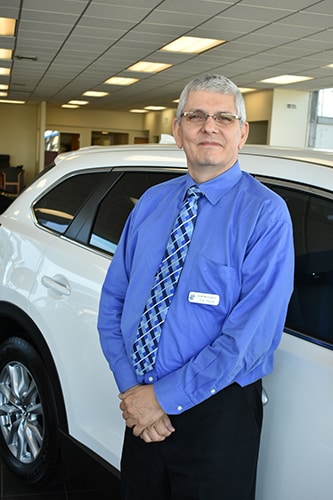 Email at dmccurdy@star-mazda.com
Financing from Star Mazda
 With our competitive interest rates and quick credit responses, Star Mazda helps you make your car-buying dream a reality. Our terms range from 12-72 months and are available for new and pre-owned vehicles.
Here are just a few benefits when financing your new car with us:

Build equity
Drive as many miles as you want
Carry lower limits for auto insurance than with a lease
Customize your vehicle
Sell, trade, or transfer title whenever you want
Don't let your credit history stand in the way of buying a car.
Leasing from Star Mazda
Our leasing program offers more choices than your average lease program. Terms range from 24-60 months, with 12-month terms available upon request.
By leasing a vehicle, you can usually:
Get a bigger, better-equipped car than you could afford to purchase.
Enjoy a new car every few years.
Pay only for the portion of the car's life that you use.
Receive tax benefits if used for business.
Invest any savings in appreciating assets.
Spread applicable sales tax across monthly payments.
Enjoy end-of-lease options: buy the car or lease another vehicle.
At Star Mazda, we make financing easy. Whether you are buying or leasing, we have a wide range of flexible options to fit your lifestyle and budget.
Your privacy is important to us.
Star Mazda takes your privacy seriously and does not rent or sell your personal information to third parties without your consent. Read our privacy policy.
Finance Department Fax Number:
(818) 500-8449
Complete Finance Application Below